Special Projects 2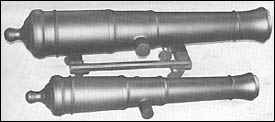 A companion pair of late 18th century British iron guns, the 3-pounder and 6-pounder shown at right are now in production at South Bend Replicas, Inc. Both guns are patterned directly after specific originals, and are designed to meet needs of serious collectors and the restoration market.
The more recently introduced of the two, the 6-pounder, duplicates an original lately recovered from Buzzard's Bay, Massachusetts, and which, according to the research of the salvor, appears to be one of several guns jettisoned from the War of 1812 raider HMS Nimrod as she lightened ship to get un-grounded and escape from nearby New Bedford gunboats. The 3-pounder, already listed in the 1982-83 SBR catalog, was patterned from originals in Mobile, Alabama and Washington, D.C., in response to a 1980 request from Colonial Williamsburg for a pair of iron 3-pounders of that period.
Both guns are poured solid, drilled, sleeved, and lathe turned. The overall length of the 6-pounder is 68 inches, with weight of 1100 pounds. The
3-pounder is 57 inches overall, and weight 500 pounds.