Mississippi River Museum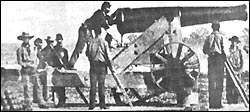 Gunbarrels to be used in the reconstruction of the forward section of a Civil War gunboat in Memphis are being produced by South Bend Replicas, Inc., of South Bend, Indiana.
The gunboat will be one of many exhibits in the new Mississippi River Museum, now under construction in Memphis. Scheduled to open in 1981, the museum will provide a comprehensive overview of the history of the river, with visitor traffic expected at a rate of about 750,000 persons per year.
Carriages for the guns are being built by Ashe Ordnance Works, a North Carolina firm also specializing in antique ordnance, but mainly as carriage wrights.
Before construction of the guns and carriages was under-taken, a team of personnel from SBR, Ashe, and the museum assembled in Vicksburg, Mississippi, to study the guns of the U.S.S. Cairo, sunk in 1862 at the siege of Vicksburg and raised a century later. Two of the larger of the Cairo's guns were selected to be reproduced: a 7-inch rifle, and an 8 inch smoothbore. The rifle is just over two feet in diameter at the breech, with an overall length of about 11 feet; the smoothbore measures slightly less. The reconstructed ship will carry three guns of each type, and a seventh will be mounted on a bluff overlooking the gunboat exhibit.
Other historical restorations equipped with South Bend ordnance include Colonial Williamsburg, the sailing ship Pride of Baltimore, the Mackinac Island sloop Welcome, DuPont's Hagley Museum, and several forts including Fort Conde and Fort Pillow, in Alabama and Tennessee respectively.
GUN WEEKLY – Friday, January 4, 1980